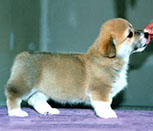 Next Meeting:
Saturday May 27, 2017
Butler County Fairgrounds
Hamilton, OH
Board Meeting: 11:45 am
General Meeting: 12:30 pm
The meeting place will be posted ringside.
Please bring your own chairs
For more information concerning the OVPWCC meeting contact:
Lanalee Law
Plan to attend
The 2018 Pembroke Derby
Ohio ValleyPWC Club
21st Annual & 13th
Independent Specialty
March 15, 2018
Judges
Breed: Mrs. Barbara Dupree "CURIG"
Sweepstakes: Miss Julianna Dupree "CURIG"
For more information: Visit the Specialty Page
click here to download the OV Specialty Premium List
Followed by 3 more days of showing at the Louisville Expo Center. CHANCES FOR 4 MAJORS IN 4 DAYS Premium List
This site was last updated 05/19/14
This site created by Nancy Oehlhof, OV webmaster.
All photos are property of The OVPWCC unless otherwise noted.
Reproduction of these photos without express written permission is prohibited.