BRYNLEA RANPRI J'NE SAIS QUOI
(GCH Sandfox Medaglia D'Oro - Brynlea Pardon My French)

Breeder: Brenda Stiles
Owners: Randy Pritts & Brenda Stiles
Best In Veteran Sweepstakes
Judge Mrs. Patricia Seifert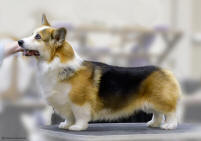 (Ch Maplecreek Byendebrok Baccarat - Ch Sandfox Set Me Free)
Breeder: Vicki Sandage
Owners: Brenda Stiles, Pattie Bittles &
Sue Klar
If you had photos taken at the Specialty
by Kathy Brandt click on the link below to view and order them.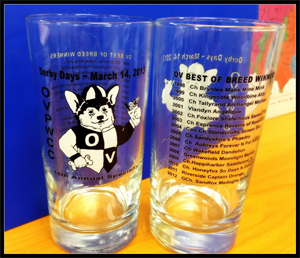 If you missed out on getting one of these cute 2013 commemorative "julep" glasses it's not too late! Order yours now. $5.00 each plus shipping.
They have the 2013 OV Jockey corgi logo
on the front with a list of all the past
OV Specialty winners on the back.
Contact Marilyn Bassinger @
(419) 231-1413 or mrb410@earthlink.net
---
Limited copies of past issues of the OVPWCC's newsletter, the OVation are available.
Cost is $5.00 ea. plus shipping.
Contact the editors for availability