Derby Days Specialty
March 17, 2016
Plan to attend
The 2017 Pembroke Derby
Ohio ValleyPWC Club
20th Annual & 12th
Independent Specialty
March 16, 2017
Judges
Breed: Tammy Johnston "RIVERUN"
Sweepstakes: Deb Shindle "RIVERSIDE"
For more information: Visit the Specialty Page
click here to download the OV Specialty Premium List
Followed by 3 more days of showing at the Louisville Expo Center. CHANCES FOR 4 MAJORS IN 4 DAYS Premium List
___________________________________
Are you thinking a Pembroke Corgi is the right breed for you?


Please read the following:


The PWCCA website has articles, a description of the breed, and in particular, a page with guidelines for buying a puppy that has ideas on what to think about before you buy a puppy and questions to ask prospective sellers to insure that you get the perfect puppy
The Pembroke Welsh Corgi Club of America's FAQ site.
Follow this link for a list of the club members with puppies or adults available and our current rescues.
Visit our Puppy Info page or our Rescue page.
Next Meeting:
Sept. 3 2016
Place: Lexington, KY
Kentucky Horse Park
campsite 67
Time
Board Meeting: 10:30 am
General Meeting: 11:30
For more information concerning the OVPWCC meeting contact:
Gerald Kyle
Best In Puppy Sweepstakes
Judge Ms. Elizabeth Sessions
DOUBLE G'S IT'S FIVE O'CLOCK SOMEWHERE AT PERI LANE
Go to the Specialty Page for links to
all our previous Specialty Results.
If you had photos taken at the Specialty
by Kathy Brandt click on the link
below to view and order them.
Support Ohio Valley's Rescue
Best of Breed
Judge Ms. Marilyn Van Vleit
GCH AUBREY'S MOON RIVER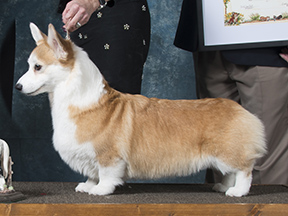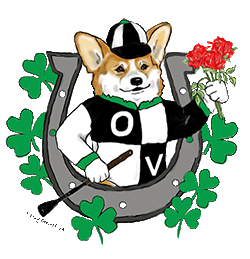 Best In Veteran Sweepstakes
Judge Ms.Elizabeth Sessions
CH SANDFOX TOUCH GOLD TDX PT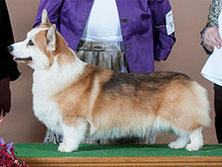 OVPWCC is involved in rescuing Pembroke Welsh Corgis, who for some reason or other, find themselves in need of a home.  Each dog is tested and evaluated before placement. Loving homes are always in demand.
For more information contact our Rescue Committee:
Neena Van Camp or Karen Strasser

You are invited to the ...
OV PEMBROKE EXTRAVAGANZA
We look forward to seeing our members, family of corgis, guests, rescue adopters and their rescue corgis at the event. The event will include the OVPWCC Board meeting, the OV General meeting, a lluncheon, a Rescue Parade and fun corgi games for all!
What: Ohio Valley Pembroke Extravaganza
Where: Kentucky Horse Park Campground
(site to be announced closer to the event)
When: Saturday, September 3, 2016
Time: 10:00 a.m. - 2:00p.m.
Cost: For lunch -Members: $5.00 each or bring a side dish to share and be our guest, adopters & fosters, NO CHARGE
Please bring chairs and crates for your dogs
Timeline of Events:
10:30 a.m. - Board meeting
11:30 a.m. - Membership meeting
Approximately noon
Corgi Rescue Parade
Rescue Seminar for rescue adopters - topics to iinclude tips for a healthy weight, using basic obedience around the house and living with multiple dogs.
Corgi Olympics:
Games for all corgis will include the wet t shirt relay and The Hot Dog Bob
For questions/information contact: Karen Strasser
Phone - (513) 604-1167
Email – strasser@fuse.net